San Diego, CA, 11/15/11 – American Claims Management, Inc. (ACM), has
appointed Pier Westra as vice president of its Property Claims Division. Effective November 14, 2011, Westra will oversee all of ACM's East Coast, Southeast and
Southern U.S. property claims operations and will be instrumental in establishing
ACM's new Florida office.
Westra joins ACM with over 20 years experience in the claims field, including
managing the property and casualty claims and field operations at The
Hartford, Allied American and Vanguard Fire and Casualty. Recently, Westra
served as claims manager of property claims for Homewise Insurance.
Westra will be handling all aspects of ACM's property claims, including
complete investigation and settlement, litigation management, field
operations, regulatory reporting and data management.
"We're looking forward to expanding our operations with Pier joining our
experienced team of professionals," said Scott Marshall, president of ACM.
"Our group has extensive knowledge in resolving personal and commercial
property claims aggressively and efficiently and having Pier join our team helps
us round out our expertise."
Since 1988, American Claims Management has been an independent national
third party claims administrator specializing in both commercial and personal
lines. By offering professional expertise in claims administration, ACM is
committed to providing superior claims services and innovative solutions. For
more information, please visit www.ACMclaims.com.
###
Contact:
Scott Marshall
SMarshall@ACMclaims.com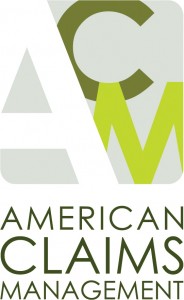 Was this article valuable?
Here are more articles you may enjoy.