San Diego, CA, 08/01/13 – American Claims Management Inc. (ACM), a national third party administrator (TPA), has been selected as the workers' compensation TPA for El Camino Hospital in Northern California.
As a self-insured organization, El Camino Hospital's claim expenses directly affects their bottom line. To provide their employee's with quality claim services while also containing costs, the hospital required a TPA with proven experience and a commitment to technology and service flexibility.
Under the terms of the contract, which was effective July 1, 2013, ACM will manage claims, bill review, managed care, subrogation, investigation and other ancillary services for new claims. ACM will also take over the administration of approximately 300 existing claims from the prior TPA.
"After conducting a very thorough search, we are excited to work with ACM," said Sandra Speer, director of Employee and Labor Relations at El Camino Hospital. "ACM is well-suited to help us manage workers' compensation claims while continuing to provide quality care for our employees."
"El Camino Hospital and ACM are a great match because both companies embrace innovation," says Deirdre Gonzalez, president of ACM's Workers' Compensation Division. "In fact, El Camino Hospital and its advanced robotics program were featured in a piece by 60 Minutes showcasing the economic impact of robots. So, it's no surprise that the organization sought an equally forward-thinking TPA."
ACM uses a platform of highly customizable software with advanced data management and metrics. This technology will allow El Camino Hospital to diligently track loss trends and their causes, and to proactively make workplace adjustments to change claims patterns. If clients need a special report, ACM's system can typically be customized to deliver the required information in minutes.
"We're thrilled to be chosen as the TPA for El Camino Hospital," says Jeffrey Dalessandro, ACM director of business development. "The health care industry is a growing segment of our business focus and one in which we intend to demonstrate our claim expertise in."
The Bureau of Labor Statistics predicts net job growth of almost three million health care jobs by 2020. This 29 percent increase is surpassing every other occupation group. Of course, more workers naturally result in more workers' compensation claims and ACM stands ready to meet the need.
Since 1988, American Claims Management has been a nationwide third party claims administrator specializing in both commercial and personal lines. By offering professional expertise in claims administration, ACM is committed to providing superior claims services and innovative solutions. For more information, please visit www.ACMclaims.com. ACM is a subsidiary of Arrowhead General Insurance Agency Inc.
Contact:
Jeffrey Dalessandro, ACM Director of Business Development
JDalessandro@ACMclaims.com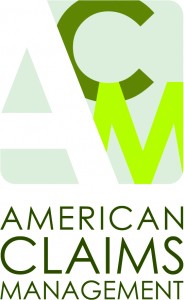 Was this article valuable?
Here are more articles you may enjoy.