San Diego, CA, 02/23/12 – American Claims Management, Inc. (ACM), a national third party administrator, has opened an additional office in Tampa Bay, Florida to leverage the Company's growth in its East Coast, Southeast and Southern U.S. property claims operations. This includes personal property, catastrophic wind/rain and earthquake claims.
Pier Westra, vice president of ACM's Property Claims Division, will manage the new branch office, which will initially house 15-20 claims staff. Westra joined ACM in November 2011 and brought with him over 20 years experience in the claims field, including managing the property and casualty claims and field operations at The Hartford, Allied American and Vanguard Fire and Casualty. Recently, Westra served as claims manager of property claims for Homewise Insurance.
"Our property and catastrophic loss response units are enjoying significant growth through our U.S. based and Lloyd's of London clients," said Scott Marshall, ACM's president. "Tampa Bay offers ACM a perfect location to balance our already strong presence in Atlanta and San Diego."
The ACM team utilizes a large network of professional field and desk adjusters that have extensive experience in handling CAT claims. The team's expertise and instantly mobility, coupled with its use of a fast and efficient online claim system and Xactimate/XactAnalysis, helps reduce cycle times and loss paid, while enhancing client satisfaction.
Since 1988, American Claims Management has been an independent national third party claims administrator specializing in both commercial and personal lines. By offering professional expertise in claims administration, ACM is committed to providing superior claims services and innovative solutions. For more information, please visit www.ACMclaims.com.
###
CONTACT:
Pier Westra
Vice President ACM Property Claims Division
PWestra@ACMclaims.com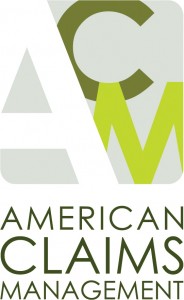 Was this article valuable?
Here are more articles you may enjoy.