Hurricane Delta caused from $700 million $1.2 billion in insured losses from wind damage and storm surge, and an additional $800 million to $1.5 billion in losses to offshore structures, CoreLogic said Tuesday.
The damage is far less than estimated losses from the much-stronger Hurricane Laura, which CoreLogic estimated in a range from $8 billion to $12 billion and some analysts said could reach $14 billion.
Delta came ashore about 12 miles east near Creole on Oct. 11 with maximum sustained winds of 100 mph. Laura struck the Louisiana coastline near Cameron on Aug. 27 with sustained winds of 150 mph.
"Recovery from Hurricane Delta will likely be exacerbated due to ongoing rebuilding efforts following Hurricane Laura," stated Tom Larsen, principal for insurance solutions at CoreLogic. "Damage from Hurricane Laura extended inland and concentrated on roofs and exterior building cladding, and Delta's impact could have a double-jeopardy impact."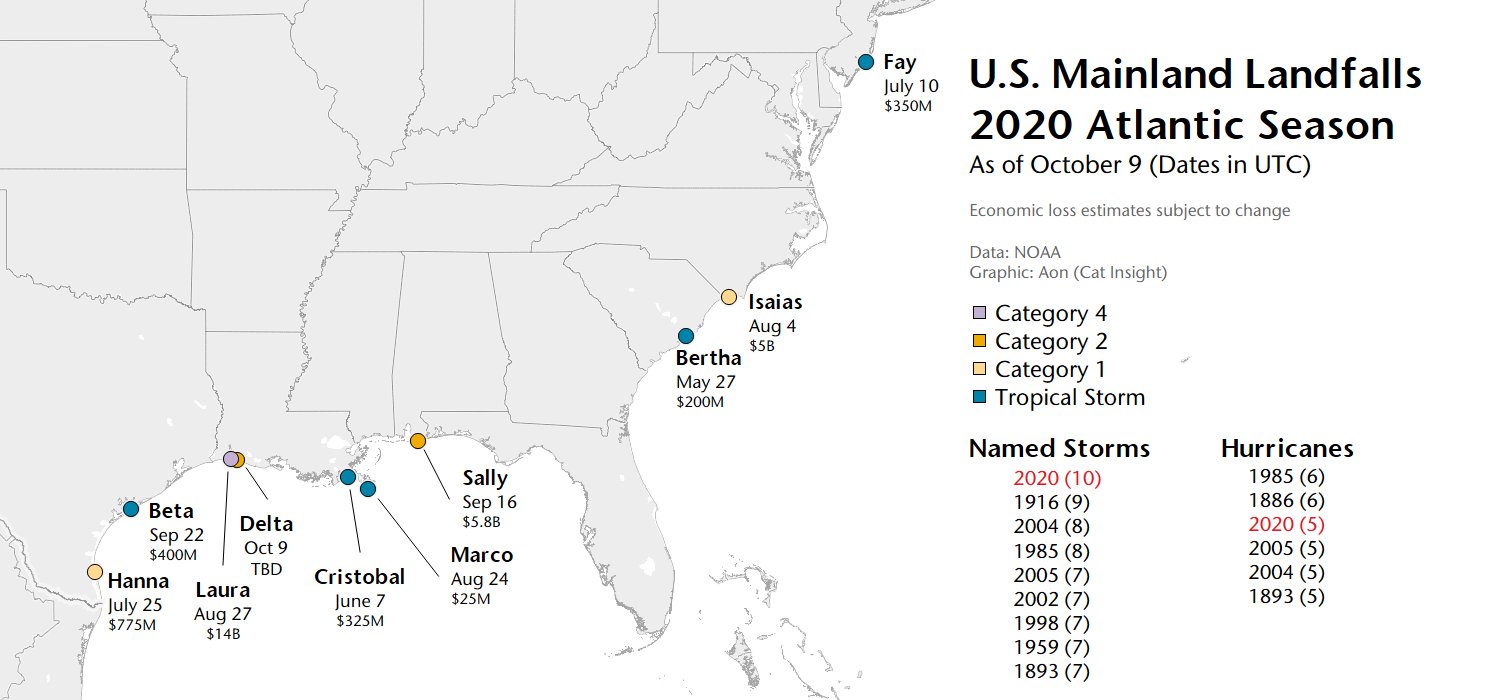 Delta was the 10th named storm to make a U.S. landfall this year, the fifth hurricane to come ashore and the second hurricane to strike Louisiana. Steve Bowen, an analyst for Aon, said in a Twitter post that prior to Delta, tropical storms and hurricanes had caused an estimated $26 billion in losses.
Delta is the fourth-most costly storm so far. Hurricane Laura caused an estimated $14 billion in losses, Hurricane Sally $5.8 and Tropical Storm Isaias $5 billion, Bowen said.
CoreLogic said Delta's insured losses could be as low as $700 million, including flood damages. Damage to offshore structures could be as low as $800 million.
Karen & Clark & Co. released a similar estimate of damage from Hurricane Delta. The analytics firm projected onshore insured wind losses of $950 million in the United States and an additional $300 million in Mexico, which the storm struck on Oct. 7 before taking aim at Louisiana.
KCC's projection did not include storm surge losses, which are mostly covered by the National Flood Insurance Program. CoreLogic included estimated storm surge losses of $200 million to $300 million in its estimate.
KCC described Delta's wind damage as "moderate."
"Window openings, roofs, and building facades were damaged in an area from Lake Charles to Abbeville and inland to Opelousas," the company said in a press release. "Structural damage in this area was confined to lightweight structures, such as warehouses and gas station pavilions, old structures, and buildings impacted by fallen trees."
Delta's high winds reached into Lake Charles, which was severely damaged by Laura. KCC said tarps blew off many roofs that are waiting repair, likely causing additional damage. Other properties that weren't damaged by Laura were damaged by Delta, the company said.
Moody's said that losses from Laura and Delta will likely make their way into the reinsurance market though quota-share and excess-of-loss contracts. Reinsurers are likely to continue to push for higher prices and better terms and conditions, the ratings house said.
Fortunately for Louisiana homeowners, most will not have to pay two deductibles — one for damages caused by Laura and a second for damages caused by Delta. CoreLogic said the Louisiana legislature in 2009 passed a law that mandates a single annual hurricane deductible.
Louisiana allows hurricane deductibles larger than the standard deductible on the policy, CoreLogic said.
About the photo: Damage from Hurricane Delta in Calcasieu Parish, Louisiana is shown. Photo courtesy of EagleView.
Was this article valuable?
Here are more articles you may enjoy.