Matthew Soumakis, 31, attending the National Association of Insurance Commissioners' Meeting in Chicago last week vanished and the family is appealing for help. The Massachusetts man was last seen in a Streeterville neighborhood bar near the Sheraton Hotel and Towers where the NAIC Meeting was being held. He was reported missing last Tuesday, the day he was scheduled to check out of the hotel.
Employees at Lizzie McNeil's pub said that saw a man resembling Soumakis in the bar. According to witnesses, the man resembling Soumakis arrived around 8 p.m. and left with a "distinguished" looking man with gray hair and a beard. The bar is just yards away from the Sheraton Hotel where Soumakis checked in Friday to attend the NAIC Meeting.
The Chicago River near the Sheraton Hotel was searched by the police marine unit and its scuba team, but turned up nothing. The river water temperature was about 39 degrees, according to police.
Soumakis is married and lives in East Longmeadow, Mass. His wife, Chris, is four months pregnant. He was recently promoted to manager at SS & C Technologies, a financial software company. His laptop, luggage and other personal belongings were found by Chicago Police in the room in the Sheraton.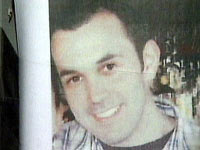 Family and friends, who have flown to Chicago to help in the search are appealing to the public for any information and have passed out fliers. They describe Soumakis as six feet tall with black hair and brown eyes.
Anyone who may have seen Soumakis is asked to call the special victims unit of the Chicago Police at 312-744-8266.
Was this article valuable?
Here are more articles you may enjoy.