London's transport services remain closed following this morning's series of bomb explosions. Latest reports indicate that 4, and not 7, closely timed explosions have killed at least 37 persons and injured more than 700, many of whom are in critical condition
The three attacks on the Underground (Subway) and one on a London bus have brought Britain's capital to a standstill. Police shut off all cell phone communications to prevent their use to trigger more explosions. Reports indicate that several more devices were located and destroyed.
Authorities said it would take some time before any accurate count of the dead and injured can be made, but the toll is expected to rise.. Rescue workers are continuing their efforts to reach people still trapped in the Underground. .
According to the BBC, here is the timeline of the blasts this morning in London: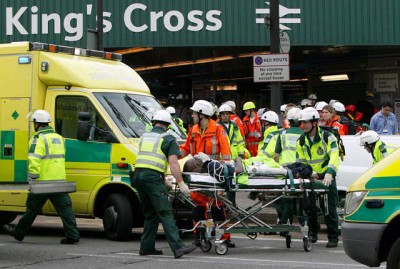 08:51 – 7 people die in a blast on a train 100 yards from Liverpool Street station;
08:56 – 21 people die in a blast on a train between Russell Square and King's Cross stations;
09:17 Seven people die in blast on a train at Edgware Road station;
09:47 – 2 people die in a blast on a number 30 bus at Tavistock Place.
No absolute confirmation of the source of the attacks has been made, but, several experts in counter-terrorism, interviewed by the BBC, said they bore all the hallmarks of an attack by Al-Qaeda, and were similar to the attacks in March 2004 in Madrid that killed 191 people. An Islamist website has posted a statement – purportedly from al-Qaeda – claiming it was indeed behind the attacks.
British Prime Minister Tony Blair, who's attending the G8 summit in Gleneagles, Scotland, acknowledged that there had been "a series of terrorist attacks in London… people have died and are seriously injured… It is reasonably clear this is designed and timed to coincide with the opening of the G8". He returned to London this afternoon to deal with the crisis. Blair said the summit would continue without him.
The attacks have hit the world's financial markets, with shares declining across the board. Insurance stocks have been especially hard hit.
The BBC Web site: http://news.bbc.co.uk, is continuing to update its reports on the attacks.
Editor's note: See related information in International News.
Was this article valuable?
Here are more articles you may enjoy.