Coverage offered as a General Liability sublimit
Scottsdale, AZ, April 10, 2015- Nautilus Insurance, which writes on behalf of Nautilus Insurance Company and Great Divide Insurance Company, member companies of W. R. Berkley Corporation, has announced the enhancement of its General Liability product offering with an optional buyback for First Party Cyber Coverage for eligible classes of business.
The endorsement has been designed to help policyholders combat the stress of data breaches by offsetting costs associated with a cyber-attack. Services provided in the coverage include notification assistance, cyber investigation and crisis management expenses, as well as regulatory proceeding expenses. Nautilus offers this coverage as a $25,000 sublimit within its General Liability policy for a flat, low minimum premium on over 1,100 ISO classes, based on certain eligibility guidelines.
"Adding this coverage to our General Liability product is just one more way we're continuing to enhance our coverage offering to meet the needs of our agents and insureds." said Curt Chalmers, Vice President of Underwriting. "Cyber coverage helps enhance our already robust product portfolio, while addressing an emerging risk that may not be covered by standard General Liability policies."
About Nautilus Insurance Group
Nautilus Insurance, located in Scottsdale, Arizona, is one of the leading excess and surplus (E&S) and specialty lines providers in the United States. . Nautilus Insurance Company and Great Divide Insurance Company, are each rated A+ (Superior), Financial Size Category XV, by A.M. Best Company, Inc. For more information on Nautilus Insurance, please visit the Company's website at www.nautilusinsgroup.com.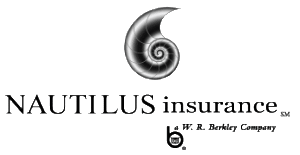 Products and services are provided by one or more insurance company subsidiaries of W. R. Berkley Corporation. Not all products and services are available in every jurisdiction, and the precise coverage afforded by any insurer is subject to the actual terms and conditions of the policies as issued. Certain coverages may be provided through surplus lines insurance company subsidiaries of W. R. Berkley Corporation through licensed surplus lines brokers. Surplus lines insurers do not generally participate in state guaranty funds and insureds are therefore not protected by such funds.
Contact
Nautilus Insurance
Thomas Pytel
Vice President-Marketing & Business Development
480-367-5453
tpytel@nautilus-ins.com
Was this article valuable?
Here are more articles you may enjoy.