CC&S is a premier national auditing group providing specialized audits to the risk industry including, best practices, reserve adequacy, inventory evaluations, claim file audits and inventory reduction concepts and methodologies.
In line with CC&S depth and focus, RC&S combines seasoned, experienced industry experts, attorneys, and executives, investing refined knowledge to produce the highest yields for our clients.
RC&S is led by Erik Stremke, Harold Provizer Esq. and George Berg with over a century of industry experience between them, supported by premier industry veterans with a minimum of 20 years' experience, covering all areas of P&C claims.
Harold Provizer, Chairman of both companies, has defended numerous carriers and self insured clients in liability claims, and pursued recovery for his clients 1st party and Workers Compensation payments.
In a recent interview, Mr. Provizer noted "After several years of claims review, including Subrogation performance in the risk industry, both standard insurance and ART clients, many clients have consistently achieved Subrogation returns below industry benchmarks. It is our opinion that the risk industry can significantly benefit from an increased focused, passionate approach, and experienced attention to increasing recovery results. Innovation of process, approach, combined with highly experienced claims professionals is necessary for the contemporary Risk Industry. "
Although many standard carriers have increased attention to Recovery in the past decade, there is still a distance between industry benchmarks and actual results for Program Business, Self Insureds, Captives, and RRG's retained 1st party risks.
This is where RC&S comes in. Our tagline, Experience Innovation Results, tells the story. George Berg, CEO of CC&S and COO of RC&S, who has been a Claims Executive with large insurers during his 50+ years' career, has seen the impact skilled and focused Recovery efforts can have.
"Experience and passion for results creates an environment that supports maximum Recovery. With the reality of resource limitations in most companies, through RC&S, we provide a unique depth of skill and knowledge, with a 360 degree understanding of liability analysis, damage evaluation, and negotiating. This produces the maximum net Recovery results for our clients, while they focus on their core claims handling and loss control."
Erik Stremke, President of RC&S, has managed P&C Commercial claims and claim staff in his 30+ year career. For the last 15 years he has been actively involved in developing and improving Recovery results for carriers, self- insureds, Captives, and RRG's retained exposures.
" The ART market and program business in particular have historically been below industry benchmarks in Recovery. I believe we can change that. With growing additional losses in Cyber related losses, we bring added resources to this market segment for standard carriers and the ART market."
Passionate about results, RC&S specializes in subrogation and tort recovery, providing superior customized services to our clients, across several product lines.
RC&S focuses on Commercial Property Subrogation, Workers Compensation/ Occupational Accident Subrogation, Trucking Subrogation (Physical Damage, Cargo, Work Comp/Occ Acc), Ocean Marine/Inland Marine Subrogation, Allocated Loss Adjustment Expense Recovery, Reinsurance Recoveries, E&O and Malpractice Subrogation, and General Liability Contribution Recoveries.
RC&S– Experience, Innovation, Results. www.RecoveryCS.com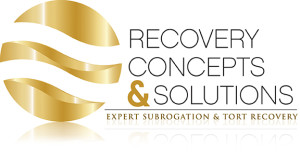 Was this article valuable?
Here are more articles you may enjoy.