Rancho Cucamonga, Calif. (May 12, 2014) – At its recent convention, the BIG Independent Group (www.biginsusa.com) awarded its coveted "Biggie" awards to some well-deserving insurance industry leaders. The group, an association of independent insurance producers and carriers based in Southern California, annually award these accolades to "reward excellence in the independent agency channel, marketing fields and community advocacy."
"We are very pleased with all the nominees for this year's awards. We had close races in most of the categories. With over 9,000 votes some decisions came down to less than 100 votes separating the winners and runners up," said Jon Spaugy, CEO of BIG Independent Group. "It is an honor to present these awards for excellence within our industry and I am proud of all the nominees. We are looking already planning for our 2015 awards."
The winners of the 2014 BIGGIE Awards are:
Preferred Agency of the Year: Key City Insurance
Preferred Carrier of the Year: Safeco
Preferred Marketing Representative of the Year: Cynthia Riley from CSE
Standard Agency of the Year: Freeway Insurance
Standard Carrier of the Year: Alliance United
Standard Marketing Representative of the Year: Nancy Orozco from Alliance United
Vendor of the Year: ITC- Turbo Rater
MGA of the Year: Carnegie
Community Advocate of the Year: Infinity / ReadConmigo.org
Hall of Fame: Ron Thurman- Key City Insurance
Legend Award: Jeff Gladstone from Top Premium Finance
MVP Award: Adam Meyerson from QQ Solutions
About BIG Independent Group:
Our Mission is to offer industry related education, create networking opportunities, and to act as a national voice for all participants within the Insurance Industry. We aim to create an environment around sharing information, discovering new ideas for streamlining current processes, increasing productivity through new technology, understanding new legislation, and benefiting from our experiences as an industry rather than an individual. For more information, visit www.biginusa.com
Contact:
Jon Spaugy
President, BIG Independent Group
909-809-4451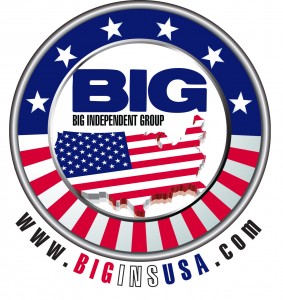 Was this article valuable?
Here are more articles you may enjoy.