Los Angeles, CA, 4/21/14 – Sullivan Brokers Wholesale Insurance Solutions is pleased to announce that effective April 15, 2014; Jim Sce has joined the firm's Casualty Practice Group in the position of Vice President. In addition to his well-known & respected expertise in construction classes, Jim also has significant experience in all casualty lines of business. Jim may be reached at (213) 833-6151 and scej@sbwis.com at the Los Angeles office located at 800 West 6th Street, Suite 1800, Los Angeles, CA 90017.
"Jim is broadly recognized throughout the industry for his broking capabilities in all casualty classes, but with particular emphasis in complex construction risks. He enjoys the utmost respect of retail producers and insurance markets and we are delighted to have Jim join us," said Thom Smith, President of Sullivan Brokers.
Sullivan Brokers is a nationwide wholesale brokerage specializing in healthcare, professional, management, and transaction liability, alternative risk transfer, environmental, and property & casualty risks. For more information, visit www.sbwis.com.
Contact:
Thom Smith
(213) 833-6149
smitht@sbwis.com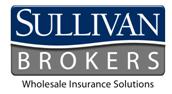 Was this article valuable?
Here are more articles you may enjoy.