Alpharetta, GA, 03/19/2014 – National ConnectForce Claims (NCC), a leader in the claims adjusting industry, has begun a pilot evaluation using Google Glass as a way to provide realtime feedback from field adjusters. Google Glass is a wearable computer technology, which utilizes an optical head-mounted display (OHMD) to transfer live data in a hands-free format via voice command. The technology has great potential for better, faster and more efficient claim settlements. In addition, NCC has teamed up with Claimable, a cutting edge claims management and processing system to aid in the data capture of field adjusters using Google Glass. As a result, NCC will be able to seamlessly integrate Google Glass into the current claims processing system.
The technology will enable a field adjuster in the process of an investigation to instantly share information with a supervisor, specialist or desk adjuster. The ability to take a phone call from the field and provide real-time video and sound will increase productivity, quality and reporting efficiency, which positively impacts NCC's client base. NCC's Catastrophe Division services a large number of clients who insure personal and commercial property from hurricanes and earthquakes. Google Glass could have the most immediate impact on the division by providing real-time feedback from field adjusters on the ground and on the most complex losses.
"Digital technologies have and will continue to change the world of loss adjusting, said Matt
Anderson, chief operating officer of NCC. "Initiatives like this allow us to enhance claims
handling by not only improving the process of scoping a loss but also improving the quality of information collected at each loss location. The end result is improved customer service for both our clients and their customers."
Michael Hearn, director of operations of NCC, explained, "Google Glass has the potential to
be a disruptive technology in the claims adjusting industry. We will be able to use this
technology for real-time claims and catastrophic event assessments and to assist in training prospective adjusters. We are excited about investigating all the capabilities of Google Glass in an effort to continue to provide our clients with superior service."
Founded in 2012, National ConnectForce Claims is the leader in claims adjusting. The
company offers a wide range of products and services designed to be the claims solution for
property and casualty claims handling.
CONTACT:
Betsy Rogers, Business Analyst
678.492.3688
BRogers@NCCClaims.com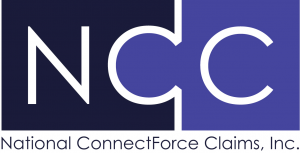 Was this article valuable?
Here are more articles you may enjoy.