Louisville, KY, 10/22/13 – Donan, a forensic investigation company, has made available a free webcast about their component testing services. Donan's lab, located in Louisville Kentucky, features 50,000 square feet of testing and evidence storage space. One of the largest facilities of its kind in the nation, the lab receives more than 900 items for failure analysis each month. All testing is performed by engineers or PhDs and resulting reports not only identify the mode of failure, but also include an evaluation of subrogation potential.
"We understand how important subrogation is to our clients so we make the process as easy as possible and provide superior service from shipping to storage," explains marketing director Leslie A. Noel. "And we do things the right way, with the right people. You'll see others in the industry using technicians for testing, while at Donan, we exclusively use engineers and PhDs. We hope the webcast gives the industry some insight into the expertise of our team, the efficiency of our process and the value we bring to our clients."
Watch the free webcast to learn about their fixed-price investigations, conclusive reports and the engineers, equipment and facilities that make it happen. Click here to watch: https://www.claimsjournal.com/clients/donan/
About Donan:
Donan is a full-service, world class, forensic investigation firm with offices throughout much of the United States. Since 1947, Donan's expert investigators have utilized a rewind approach to research incidents, reconstruct events and reveal causes. Services include forensic engineering, fire investigation, component testing and lightning investigation. For more information, visit www.donan.com
Contact:
Leslie A. Noel
Marketing Director
lnoel@donan.com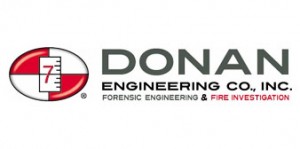 Was this article valuable?
Here are more articles you may enjoy.