Los Angeles, CA, 8/27/13 – Sullivan Brokers Wholesale Insurance Solutions is pleased to announce that effective August 26, 2013; Clancy Marie Johannsen has joined the firm's Professional & Management Liability Practice Group in the position of Vice President. Clancy earned the MLIS designation from IRMI and is a member of the California SLA Education Committee.
"Clancy is broadly recognized throughout the industry for her broking expertise in all professional liability and management liability classes, but with a particular emphasis on "tough-to-place" risks. She enjoys the utmost respect of retail producers and insurance markets and we are delighted to have Clancy join us," said Thom Smith, President of Sullivan Brokers.
Sullivan Brokers is a nationwide wholesale brokerage specializing in healthcare, professional, management, and transaction liability, alternative risk transfer, environmental, and casualty.
Clancy may be reached by phone and email at 213.833.6159 and clancy.johannsen@sbwis.com at the Los Angeles office located at 800 West Sixth Street, Suite 1800, Los Angeles, CA 90017.
Contact:
Thom Smith
213.833.6149
smitht@sbwis.com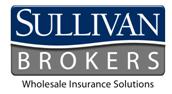 Was this article valuable?
Here are more articles you may enjoy.