Chicago, IL and Salt Lake City, UT, 02/23/12 – Prime Insurance Company, a premier excess and surplus lines carrier announced today that Mark Fisher has been promoted from Vice President and General Counsel to President and General Counsel of Prime's parent company. A fifteen year veteran of Prime, Mr. Fisher's team has managed over 20,000 professional, property and liability claims and litigated cases. He is a licensed attorney in California, Utah and Washington D.C.
"Mark has demonstrated leadership and management skills that are not only deserving of the position, but will benefit the entire organization," said Rick J. Lindsey, Chairman and Chief Executive Officer of Prime. "I look forward to working with Mark in his new capacity."
Prime is an excess and surplus lines insurance carrier offering solutions for hard-to-place property and casualty risks. Prime has a track record of performing significantly above industry averages reporting a combined ratio of 70.7% and 68.9% for 2011 and 2010, respectively.
Prime is an eligible carrier in 46 states, Guam, Puerto Rico, the U.S. Virgin Islands and the British Virgin Islands with offices located in Chicago and Salt Lake City.
For more information about Prime Insurance Company, please visit us at www.primeis.com.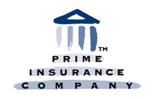 Was this article valuable?
Here are more articles you may enjoy.