Atlanta, GA, 02/12/12 – Reagan Consulting released its 2011 year-end Organic Growth and Profitability Survey (OGP Survey) results today. The OGP Survey, now in its fourth year, is a real-time indicator of quarterly growth and profitability results for privately-held insurance agents and brokers. With both organic growth and profitability showing improvement over 2010 results, 2011 was a significantly better year for the industry.
"These 2011 results indicate that we have likely seen the worst of the perfect storm of soft P&C rates and a lackluster economy that has dogged our industry for the past several years. While we are by no means out of the woods yet, these results confirm we are heading in the right direction, " said Tom Doran, senior vice president of Reagan Consulting. "Most of our OGP Survey participants believe that 2012 will be an even better year than 2011."
Key findings from the 2011 Survey include:
Median organic growth for brokers in the OGP Survey totaled 3.7%, almost double 2010's results. Median EBITDA profitability totaled 18.2%, up slightly from 2010
Contingent income, a significant driver of agency profitability, was up 2.7% in 2011.
Median Commercial Lines P&C organic growth totaled 3.3% in 2011. While unspectacular relative to the heady hard market days in the early 2000's, this growth is vastly improved over the flat results posted in 2010 and the negative growth achieved in recent years. "Sixteen of the last twenty years have been soft market years in the P&C arena. Positive organic growth in this environment has been very difficult to achieve. Any positive growth results are welcome news," said Doran.
Although a great deal of uncertainty remains over how healthcare reform will impact Group Benefits business in the future, this line of business continues to deliver solid organic growth results and impressive profit margins. Median Group Benefits growth in 2011 totaled 7.1%, up significantly from 2010, when it grew by only 4.4%. Median EBITDA profitability for Group Benefits business totaled 22%.
Organic growth in Personal Lines P&C business, which totaled only 1.3% for the median broker, was slightly lower than last year. This business did, however, continued to deliver impressive EBITDA profit margins (31.2%). "Personal Lines P&C business continues to be a major cash cow for many of our OGP Survey Participants, " said Doran.
Reagan's Rule of 20, an excellent indicator of overall agency health that appropriately weighs both growth and profitability results, continued to improve sharply for the median OGP participant in 2011. The Rule of 20, which is calculated by adding an agency's organic growth rate to ½ of its EBITDA profit margin, totaled 12.9 for the median OGP participant, an improvement of almost 22% versus 2010.
"We are pleased to see these results for our industry. It is driven by an improving environment, but it also speaks well of the investments many of these brokers have made in their businesses in the midst of a very tough environment. These investments in people, technology and process position these brokers to reap significant rewards in the future as the overall environment improves. We greatly appreciate all of the agents and brokers that participate in the survey. Their commitment to the OGP Survey makes possible, for the first time, this real-time snapshot of the lifeblood of insurance brokers, organic growth and profitability, " says Bobby Reagan, CEO of Reagan Consulting.
The Organic Growth and Profitability Survey was launched in 2008 and stands as the industry's foremost source for real-time quarterly data for mid-size and large insurance brokers. 130 agencies participated in the year-end 2011 survey, including approximately half of the firms listed on the Business Insurance Top 100 list. Survey participants receive a confidential, customized comparison of their quarterly financial results against those of the rest of the industry. For more information about participating in the OGP Survey, contact Shirley Lukens at 404.233.5545 or Shirley@reaganconsulting.com
About Reagan Consulting:
Reagan Consulting, an Atlanta-based management consulting firm, provides strategic consulting, valuation, and merger & acquisition services to the independent insurance distribution system. It has provided services to hundreds of the strongest agents and brokers in the United States and Canada, including more than 60 of the largest 100. Services are also provided to banks with a primary focus on assisting them in the establishment and management of successful insurance businesses. For more information, visit www.reaganconsulting.com
###
Contact:
Tom Doran
404-233-5545
tom@reaganconsulting.com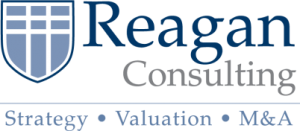 Was this article valuable?
Here are more articles you may enjoy.