San Diego, CA, 03/31/10 – American Claims Management, Inc. (ACM), a leading national third party claims administrator, is pleased to announce that Bill Randall will lead ACM's newly expanded Special Investigations Unit and Investigations Department.
"Bill Randall will oversee a team of experienced investigators located throughout California to help us with field, SIU and fraud investigations," said Scott Marshall, president of ACM. "Randall has a multi-line claims background, which is a perfect fit with our commercial and personal lines of business."
In addition to adjusting and managing claims operations, Randall has managed SIU operations for a large national carrier and for his own private investigations business. In his 20+ years in the industry, Randall has participated in hundreds of criminal prosecutions, saving clients millions in fraudulent benefits claimed but not paid. Randall is the former Chairman of the California Workers' Compensation Institute's Anti-Fraud Committee and a member of the California Insurance Commissioner's Fraud Task Force.
Randall is a frequent speaker on anti-fraud issues, recently testifying before the California State Senate in an effort to promote the sharing of investigation findings between law enforcement and insurance companies.
Since 1988, American Claims Management has been an independent national third party claims administrator specializing in both commercial and personal lines. By offering professional expertise in claims administration, ACM is committed to providing superior claims services and innovative solutions. For more information, please visit www.ACMclaims.com. ACM is a wholly owned subsidiary of Arrowhead General Insurance Agency, Inc.
CONTACT –
Scott Marshall, President ACM
SMarshall@ACMclaims.com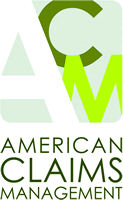 Was this article valuable?
Here are more articles you may enjoy.