San Diego, CA, 12/14/09 – American Claims Management, Inc. (ACM), a leading third party administrator (TPA) of insurance claims services, announced today that it has received its Statement on Auditing Standards No. 70 (SAS 70) Type II report with no exceptions or qualifications for the period ending October 31, 2009. This report from Grant Thornton LLP serves as verification that ACM customers' cash and data are handled securely and with business controls approved by the American Institute of Certified Public Accountants (AICPA).
"We are very pleased that we received the SAS 70 Type II report with no exceptions or qualifications," said Scott Marshall, president of ACM. "In addition to validating the integrity of our internal practices, the fact that we have the report will continue to help all our clients meet their own financial reporting and internal control obligations. ACM will continue to pursue annual SAS 70 examinations to ensure that we are offering our customers the utmost assurance about our procedures and controls."
ACM's internal business controls that were put through the rigorous audit process include control environment, risk assessment, control activities, information/communication and monitoring.
Clients of ACM are increasingly requiring independent verification that the TPA control environment meets Sarbanes–Oxley internal control standards due to an ever-expanding regulatory compliance umbrella. "SAS 70 is such a widely used compliance audit that the external auditors of our clients can choose to rely on our report when they develop their audit programs so they can avoid the lengthy testing of our TPA activities," said Marshall. "We're looking forward to being able to offer this certification to our current and prospective clients across the country."
For more information about ACM's SAS 70 Type II report or about the claims services it offers, please contact Scott Marshall at SMarshall@ACMclaims.com or 888.799.2919 x4007.
American Claims Management is an experienced and independent national third party claims administrator specializing in both commercial and personal lines. By offering professional expertise in claims administration, ACM is committed to providing superior claims services. For more information, please visit www.ACMclaims.com
CONTACT –
Scott Marshall – President
888.799.2919 x4009 | SMarshall@ACMclaims.com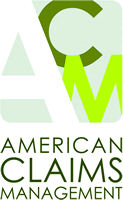 Was this article valuable?
Here are more articles you may enjoy.