Warner Bros. animation art, museum-quality framed and personalized.
Los Angeles, CA (August 13, 2008) – Wile E. Coyote has just blown himself up again in "Risk Management," an entertaining and colorful limited edition fine art lithograph taken from "Fast and Furry-ous" released in 1949. Broadman Fine Arts, Inc., in association with the Warner Bros. animation art studio, is now offering animation art at an affordable price for corporate gift buyers.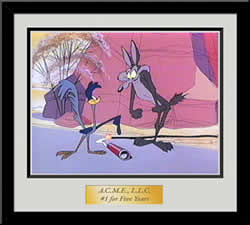 TM & © Warner Bros.
"Since many of our gallery customers are insurance professionals, we developed this corporate gift program with them in mind. Insurance companies and agencies can give these exclusive, personalized limited edition fine art lithographs to their clients, agents, colleagues and employees. They seem to really enjoy the outrageous humor and entertaining personalities of the famous Warner Bros. characters," said Vicki Austin, president of Broadman Fine Arts, Inc. "Animation art with characters they know and love, in a scene related to insurance or a favorite hobby like golf, makes a great gift."
Animation art is a popular, respected American art form that is recognized and exhibited at museums and galleries worldwide. Legendary characters like Bugs Bunny, Daffy Duck, Wile E. Coyote and Road Runner that have entertained audiences for generations. Many of the characters are not only American icons, but also an integral part of our culture.
Charles Solomon, internationally respected author and historian of animation, describes Warner Bros. cartoons as "the quintessential Hollywood cartoons: brash, fast-paced, aggressively funny and uniquely American. Virtually everyone in the U.S. under the age of 60 grew up on these films, in theaters and on TV… some of the funniest films ever made in the U.S.– or anywhere else."
"Buyers can select a beautifully framed fine art lithograph with a personalized plaque, or, just imagine, they can even commission their own original scene using the entire cast of Warner Bros. characters. We are excited to bring this, for the first time, to the corporate world," added Austin. "We understand the importance and value of the personalized corporate gift."
Animation art is also available from other major animation studios including Hanna-Barbera (Scooby Doo, The Flintstones, Jetsons) and MGM (Tom & Jerry). For more information, go to http://www.broadmanfinearts.com/corporategifts, call (805) 230-1393 or email jessica@broadmanfinearts.com
Contact:
Jessica Cheney, Creative Director
5737 Kanan Road, #271, Agoura Hills, CA 91301
Tel: (805) 230-1393, Fax: (805) 230-0093
Email: jessica@broadmanfinearts.com
Art Images: http://broadmanfinearts.com/insurance
Website: http://www.broadmanfinearts.com/corporategifts

Was this article valuable?
Here are more articles you may enjoy.