North Hollywood, CA – QuotesAuction.com is the nation's leading internet insurance marketing group that specializes in proving quality insurance leads to insurance agents. The company has implemented a new multi-layer quality control system to verify validity of leads automatically, prior to selling leads to insurance agents.
How many "Mickey Mouse" leads at 123 Main St. can you receive before you start to get upset and looking elsewhere for insurance leads? 888-8888 is a normal household phone number right? QuotesAuction.com stops the bad data problem by running over 30 data quality checks against insurance leads it receives.
Over 30 total checks against your data, including the following:
The initial validation is at the data entry level, verifying name, address and phone numbers are real and are a match.
Second level; email address validation, third; phone by a human.
Geo-location testing – did somebody in London fill out the form saying they are in Memphis? This helps fight against fraudulent leads.
Reverse address to phone and phone to address comparison.
Area Code comparison mapping.
Zip Code comparison mapping.
Cell phone and business phone lookup.
Alternate name/number lookup based on both address and phone number.
Bad words filter.
Data compared to 5 different data sources!
For a limited time, insurance agents can get $200 worth of free leads for signing up with QuotesAuction.com. To learn more about this opportunity or about QuotesAuction.com, please follow this link: https://www.quotesauction.com/sign-up.htm
Quality check process is illustrated in the following graph: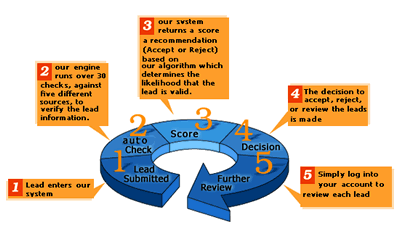 Was this article valuable?
Here are more articles you may enjoy.