With just two days left in the 2022 Florida legislative session, a comprehensive property insurance reform bill appears to be dead. But lawmakers were said to be looking for ways to fold some of the main provisions into other bills as the clock winds down.
Senate Bill 1728 would have made many changes that insurers have asked for, including steps to stem losses from roof claims, solicitation by roofers, and excessive litigation. Most significantly, it would have allowed more policies to cover only the actual cash value, or depreciated value, of roofs, and would have allowed policies to have a 2% roof-only deductible.
The bill, by state Sen. Jim Boyd, R-Bradenton, passed the Senate last week but stalled in a House committee, effectively dooming it for this year, according to lobbyists and news reports.
As of Wednesday, House and Senate members were said to be be considering adding more of SB 1728's provisions into what's been called the "omnibus insurance bill," SB 468, sponsored by Sen. Keith Perry, R-Gainesville. That piece of legislation, which already covered a wide range of minor changes to insurance and workers' compensation matters, passed the Senate in February. It was amended on the House floor on Tuesday, then approved by the full House late Wednesday by a vote of 94-23.
But the amendment to SB 468 did not include the roof-replacement provisions that were a key ingredient of Boyd's bill, and it's uncertain if lawmakers will consider adding it to other bills today or Friday.
"There's still a path forward," Kyle Ulrich, president of the Florida Association of Insurance Agents, said Wednesday afternoon. "It's up to the legislative leadership now."
A staff member for Boyd said Wednesday evening that it wasn't clear if the reforms would make it this year. "We're closely monitoring things," said Jack Rogers, legislative assistant to Boyd.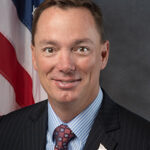 The amendment to SB 468, would, among other changes, force more policyholders to switch from the state-backed Citizens Property Insurance Corp. to other carriers, part of an effort to stem the rapid growth of Citizens and avoid huge costs to the state if multiple catastrophes strike Florida.
The amendment, offered by Rep. Tommy Gregory, R-Sarasota, would set up a schedule that's more severe than what other bills have proposed: If private insurers make homeowner take-out offers with premiums that are only slightly higher than Citizens' for comparable coverage, the policyholder would no longer be eligible for renewal with Citizens. The schedule ranges from 4% higher premiums in 2023 to 20% higher in 2027 and thereafter.
Insurance groups are still hopeful that a last-minute deal can be brokered to add roof and other provisions to other bills still pending.
"I have to believe they're going to try and figure something out," said B.G. Murphy, director of government affairs for FAIA. "Nothing's dead until the hanky drops."
Was this article valuable?
Here are more articles you may enjoy.