At noon Monday, Hurricane Katrina's sustained winds had decreased to 105 mph, with higher gusts and it was a Category 2 hurricane, leaving in its wake damage from Florida to Louisiana.
The center of Katrina was at latitude 30.8 north, longitude 89.6 west about 40 miles south-southwest of Hattiesburg, Miss. The center will continue moving over southern Mississippi today and into Central Mississippi this evening.
The eye of Katrina passed 45 miles west of Biloxi, Miss. and 35 miles east of New Orleans. The French Quarter reported flood waters rising a foot an hour and at 10 a.m. CST some areas of the city were flooded with 7-to-8-feet of water. The Louisiana Superdome had a roof leak and evacuees housed there had to be moved away from the wet areas.
Katrina's brought with it huge waves and tree-bending winds to Mobile, Ala. and Gulfport, Miss. The storm's effects were also felt at the Louisiana Superdome, where electrical power failed at 5:02 a.m., triggering groans from the crowd. Emergency generators kicked in, but the backup power runs only reduced lighting and cannot run the air conditioning.
About 370,000 customers in southeast Louisiana were without power, said Chenel Lagarde, spokesman for Entergy Corp., the main energy power company in the region.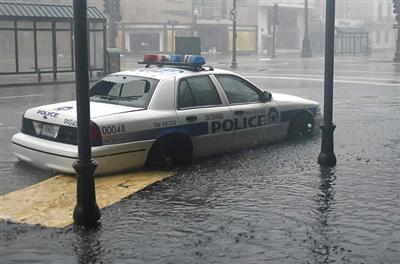 ©2005 Reuters
As sunrise approached New Orleans and southern Louisiana it brought pangs of fear as thousands of residents, unable or unwilling to flee the ravages of Katrina, waited out the tense hours in the Superdome.
As if on a timetable, Katrina roared ashore at Grand Isle, La. just before 7 a.m. CST and proceeded on-track toward downtown New Orleans. The center of the hurricane was at latitude 29.5 north, longitude 89.5 west, about 55 miles southeast of New Orleans and 75 miles south-southwest of Biloxi, Miss. Pascagoula, Miss. Civil Defense reported a wind gust to 113 mph.
Emergency management officials estimated 80 percent of the city's 480,000 residents fled to higher ground to await Katrina's arrival. At 5:45 a.m. an amateur radio operator in southern Louisiana reported sustained winds of 100 mph and gusts up to 110 mph. At 6:15 a.m. a Gulfport, Miss. amateur radio operator reported the city had lost its electricity.
More than 4,000 National Guardsmen were standing by in Memphis and ready to move into New Orleans after Katrina passes by to help police the streets. The Red Cross, Salvation Army and other relief agencies were prepared to spring into action and ham radio emergency networks had been established on across the Southeast on Sunday, ready to expedite emergency communications.
Texas Governor Rick Perry sent the state's 90-member urban search and rescue team to Louisiana. Texas Task Force One is part of a 28 team national urban search and rescue system under the Federal Emergency Management Agency. It will offer help in the hurricane's aftermath. The team is trained and equipped to locate and rescue those trapped by flooding, collapsed structures and confined space.
Perry has also authorized the activation up to 200 members of the Texas State Guard to support shelter operations and assist the American Red Cross in southeast and eastern Texas with evacuees arriving from Louisiana.
Along with the human suffering locally, Americans across the country are likely to feel the impact of the storm at the gas pumps.
The Bush administration is reportedly considering loaning crude oil from the government's emergency stockpile, if requested by U.S. refiners facing delayed shipments due to Katrina.
Approximately 633,000 barrels of daily crude oil production, 42 percent of the daily average output from the Gulf Coast, was halted as of Sunday because of Katrina. At least eight refineries with a combined capacity of 1.8 million bpd were also closed down, according to operators.
Crude oil futures were lurking in the area of $70 a barrel as of Monday.
Editor's note: Stay tuned to Insurance Journal for the latest updates on Hurricane Katrina. See related stories in National, Southeast and Texas/South Central news.
Was this article valuable?
Here are more articles you may enjoy.