In an effort to avoid a repeat of Hurricane Katrina's deadly damage on the levee system in New Orleans, President George W. Bush is asking for another $1.5 billion to help restructure the system.
With the 2006 hurricane season predicted by some to be as bad as or worse than 2005, many in New Orleans and Washington, D.C have been lobbying for more assistance to fix the problem.
While the proposed assistance is welcomed by many, officials have not stated whether the levees will be reconstructed to fight off a Category 5 storm, the likes of which Katrina was and the timetable for completing such a project.
Both La. Gov. Kathleen Blanco and New Orleans Mayor Ray Nagin have been in Washington this week lobbying for more assistance and answering questions about the response to Katrina. Nagin and the President met on Thursday to discuss the Katrina fallout and plans to rebuild the levees.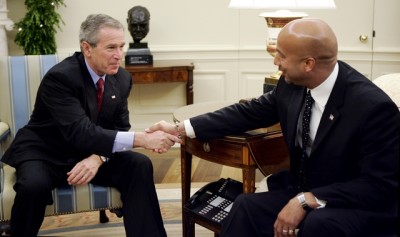 © 2005 Reuters
More than 1,000 people died in Louisiana as a result of Katrina. While the major impact of the storm did not hit New Orleans as bad as other areas and Mississippi, the breach of the levee system resulted in deadly flood waters throughout much of the city.
In a speech before the House Select Committee Investigating the Preparation for and Response to Katrina, Gov. Blanco told the panel, "As you know, I have sent over 100,000 pages documenting the state's actions from Hurricane Katrina. I am sure you have had a chance to review this information. The documents and timelines will show that the state of Louisiana was working against great odds but was focused on saving lives. Did Hurricane Katrina overwhelm our resources? You bet. And at every level – federal, state and local. Can we do it better? I hope so. There are many lessons to be learned.
"I urge all members of Congress who have not had an opportunity to do so to come to Louisiana and evaluate with your own eyes the extent of the damage wrought by Katrina and Rita.
"You will be shocked by the devastation brought on by the double punch of two hurricanes in less than a month. Forty-one of 64 parishes in our state were impacted. People of Louisiana's entire coastline were affected. Homes and businesses were destroyed from Texas to Mississippi, border to border."
Gov. Blanco said everyone involved must devise a better response to large-scale disasters at the federal, state, and local levels. "Looking back is a necessary exercise, and we will improve our response," Gov. Blanco commented. "But none of this negates the obligation of this Congress to help American citizens from the Gulf Coast who literally and figuratively are feeling they have been left out in the cold.
"There are important steps Congress must take in support of our recovery, and that is why I am here today. There are endless needs that must be addressed. Today I ask you to focus on five specific priorities:
* Strengthening our levee system and rebuilding our coastal wetlands;
* Restoring housing;
* Directing special tax incentives to affected businesses and families;
* Addressing health care needs; and
* Providing support for our displaced students and their schools.
"If families don't feel safe, they won't come home. We experienced a catastrophic structural failure of our levee system. It needs to be repaired immediately and then strengthened, so our families can come home.
"My Administration is developing Louisiana's master plan for a Category 5 hurricane coastal protection and restoration system. I hope you can support this critical long-term solution, which can be paid for by simply giving Louisiana our fair share of oil and gas revenues from the Outer Continental Shelf.
"I am recommending that we implant monitoring installations and conduct more rigorous inspections of our levees. The federal government funds our levees just as they do bridges and dams across the country, and we need you to provide adequate funding now. This is our number one priority. As I've said before, if the levees had not failed, we wouldn't be having this hearing."
Gov. Blanco also said that the insurance problem has to be addressed head-on.
"Many families were told that they were not vulnerable to flooding," Gov. Blanco remarked. "Therefore, only two out of every five people affected by the storms had flood insurance. Most homeowners' policies will not pay flood losses. We have an estimated $20-30 billion in uninsured losses.
"If Congress fails to help our people will have no money to rebuild. This is the situation. Hardworking Americans who did everything right have lost their homes, they're being denied insurance coverage, and end up with ruined credit ratings, all through no fault of their own. I am asking you not to forget them. It's all because the levees failed."
Finally, interviews which congressional investigators had with federal engineers were unveiled on Thursday from a Senate panel.
The reports appear to indicate that no one would say for sure who was responsible for fixing the levees when they collapsed.
Was this article valuable?
Here are more articles you may enjoy.