A player for the Jacksonville Jaguars football team is the latest of several athletes to sue Lloyd's of London syndicates for allegedly making changes to disability insurance policies after premiums were paid and then denying coverage based on the amended terms.
Lawyers for linebacker Jacob W. Ryan say in a lawsuit filed in federal court in Los Angeles that the insurer's behavior is part of a "deliberate pattern and practice" when selling disability insurance to athletes. They point to a similar lawsuit filed against Lloyd's syndicates by University of Arkansas running back Rawleigh Williams III, who was denied coverage on a $1 million policy after spine injury ended his football career.
In both suits — and in at least two other lawsuits filed against Lloyds' — athletes claimed that they were issued a binder after paying the premium, but no actual policy was issued until after they were injured. In each case, the carrier is accused of changing terms to deny coverage.
Ryan accuses Lloyd's of breach of contract and bad faith because of the way it handled an injury claim filed on Oct. 29. The 6-foot-two, 240-pound linebacker says he lost millions in potential income after he was forced to miss all of the 2018 season and most of this year's games, but Lloyd's refused to pay.
Ryan is seeking actual and punitive damages.
"The defendants' conduct has been despicable and done with conscious disregard of Mr. Ryan's rights, constituting oppression, fraud, and/or malice, in that defendants have engaged in a series of acts designed to deny the benefits owed to Mr. Ryan under the insurance contract," the suit states.
Ryan was anxious to win a lucrative contract as a free agent in 2018 after the conclusion of his three-year rookie contract with the Green Bay Packers, according to the lawsuit. Professional players who become free agents are aware that their income can be severely limited by a training injury. Ryan hedged his bets by paying $149,800 for an athlete's disability "loss of value" insurance policy with Lloyd's.
Ryan began pre-season training with the Packers on July 28, 2018 after receiving a "Certificate of Conditional Coverage" from an agent for Lloyd's. The certificate described a temporary insurance contract for coverage that commenced the previous June that would pay up to $5 million if his earnings over the ensuing four years amounted to less than $24 million.
Lloyds bound the coverage without requesting any medical records in advance, according to the suit. The policy excluded coverage for any injuries in the 18 months prior to June 1, 2018 that had resulted in total disability for five days or more. Ryan had no injuries that met the criteria, according to the suit.
Ryan injured his right knee while participating in training drills on July 30, 2018. He underwent surgery for a torn anterior cruciate ligament (ACL) and had to go through extensive rehabilitation, missing the entire 2018 National Football League season.
The lawsuit says Ryan was forced to accept a two-year contract with the Jaguars that paid at most $8 million with all signing, roster and reporting bonuses. The Jaguars have the option of terminating the contract after the first year.
Ryan was still unable to play during most of the 2019 season and missed out on bonuses. According the the Jaguar's website, he had played in only one game this year — a Week 13 loss to the Tampa Bay Buccaneers.
The suit says that Lloyd's did not issue an insurance policy until Aug. 16, 2018 — more than two weeks after Ryan was injured and more than two months after a binder had been issued.
Ryan alleges that the insurer deleted from the policy the original exclusion for injuries prior to June 1 and replaced it with a "right-knee" exclusion that took effect retroactively. The carrier kept Ryan's premium payments but wrote a policy with coverage that was "worthless and illusory," the suit states.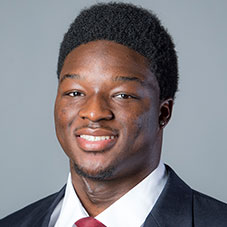 Rawleigh Williams' lawsuit names as defendants five of the seven Lloyd's syndicates were on risk for Ryan's injury claim. He also named as defendants International Specialty Insurance and Justin B. Boeving, field director for Northwestern Mutual Insurance Co.
Williams was injured his C-3 and C-4 vertebrae while playing for the Razorbacks during the 2015 season, but he recovered and returned for the 2016 season. He ran for 1,360 yards and scored 12 touchdowns. Many expected him to be a top-round National Football League draft pick, according to the suit.
At the university's suggestion, Williams purchased a disability policy through Boeving, who held himself out to be a leading provider of disability insurance to college and professional athletes. Boeving was aware of Williams' 2015 spine injury and told Williams that it would not affect his coverage, the suit says.
Williams bought a $1 million policy that Boeving told him would take effect on March 16, 2017.
On April 29, 2017, Williams was injured during practice. This time, he had injured the C-2,C-3 level vertebrae. His doctor found no problems with the vertebrae that had been injured in 2015, according to the suit.
Williams announced that he was retiring from football on May 8, 2017. The next day, he received an "amended" policy from Boeving, according the suit. The new policy stated that it incepted May 2, 2017 and excluding any injury to the "spinal column and adjacent structures."
Boeving told Williams that even though he had paid for the coverage in March, the policy language wasn't finalized until May, the suit says. He suggested that Williams rescind the coverage to get a refund on the premium.
The lawsuit, filed in Arkansas state court, alleges that Lloyds unilaterally added the endorsement to his policy because it knew that Williams had suffered a spinal injury and didn't want to pay the claim.
Williams' lawsuit lists three other lawsuits filed by athletes against Lloyd's that make similar allegations.
In 2015, Jaguars wide receiver Marquise Lee alleged that Lloyds' waited 12 weeks after receiving his application to officially issue a $4.5 million loss-of-value policy. He was also injured in the meantime.
Morgan Breslin, in a lawsuit filed in federal court in Los Angeles, accused Lloyds of waiting more than eight weeks to issue a policy after he paid for disability insurance while playing for the University of Southern California Trojans in 2013. The parties settled the suit in 2016.
Lloyds is represented by the San Francisco law firm of Foley & Lardner. Ethan D. Lenz, an insurance attorney for the firm, did not respond to an email requesting comment.
Was this article valuable?
Here are more articles you may enjoy.