Insurance industry groups are lining up quickly with responses to the Bush administration's proposed overhaul of the way the government regulates the nation's financial services industries, including insurance.
The sweeping regulatory reform proposal announced by Treasury Secretary Henry M. Paulson calls for insurance companies to be given the option of federal instead of state regulation, along with the creation of a powerful national insurance regulator and a system of national licensing of producers.
Video: Seceretary Paulson Remarks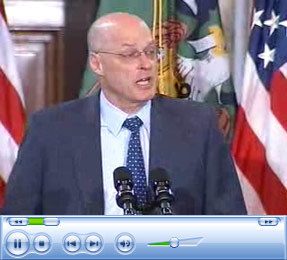 Video: Seceretary Paulson Remarks on Financial Markets and Financial Insitutions

March 31, 2008
The proposed Blueprint for a Modernized Financial Regulatory Structure would give major new powers to the Federal Reserve to oversee financial services market stability, including powers to examine the books of any institution deemed to represent a potential threat to the proper functioning of the overall financial system.
"We should and can have a structure that is designed for the world we live in, one that is more flexible, one that can better adapt to change, one that will allow us to more effectively deal with inevitable market disruptions and one that will better protect investors and consumers," said Secretary Paulson in remarks at the Treasury Department. "The challenge is to evolve to a more flexible, efficient and effective regulatory framework – and that is the purpose of this Blueprint."
According to the blueprint, the proposed legislation creating a federal insurance regulatory structure would "reestablish the federal government's role in regulating the insurance industry by reclaiming a portion of its delegation of insurance regulation to the states, thereby creating a dual federal-state regulatory structure."
The plan would introduce a system of optional federal chartering (OFC), licensing, regulation, and supervision for insurers, reinsurers, and insurance agents and brokers.
It would also provide that the current state-based regulation of insurance (authorized by the McCarran-Ferguson Act) would continue over insurers and producers not electing to be regulated at the national level.
States would not have jurisdiction over those electing to be federally regulated. However, insurers holding a federal charter could still be subject to some continued compliance with other state laws, such as state tax laws, compulsory coverage for workers' compensation and individual auto insurance, as well as requirements to participate in state mandatory residual risk mechanisms and guarantee funds.
An Optional Federal Charter would specify the lines of insurance that each national insurer would be permitted to sell, solicit, negotiate, and underwrite. For example, an OFC for life insurance could also include annuities, disability income insurance, long-term care insurance, and funding agreements. On the other hand, an OFC for property and casualty insurance could include liability insurance, surety bonds, automobile insurance, homeowners, and other specified lines of business.
Treasury recommends that the federal regulatory powers of the national insurance commissioner should be comparable in scope and force to those of "other world-class financial supervisors."
Treasury also recommends that, as an intermediate step to a federal system, Congress should establish a federal Office of Insurance Oversight within Treasury to establish a federal presence in insurance for international and regulatory issues.
The blueprint explains the reasoning behind the shift to federal regulation of insurance and criticizes state regulators in the process:
"Insurance is truly a global business with an international marketplace subject to international exchanges and negotiations. However, under the current U.S. state-based insurance system, no regulatory official at the federal level can speak for the interests of U.S. regulators of insurers and reinsurers. Assuming that role by default, the National Association of Insurance Commissioners (NAIC) has thus far failed in obtaining a satisfactory degree of state regulatory uniformity."
Regulators balk
National Association of Insurance Commissioners (NAIC) President and Kansas Insurance Commissioner Sandy Praeger said the federal government has enough to do and should keep its hands off insurance.
"Clearly, the current climate of less regulation and less accountability has led to the turmoil affecting broad sectors of our nation's economy. We agree that federal action to look at system risk is long overdue. We agree that the federal government needs to remodel their financial regulatory house, but they need to leave the insurance 'room' alone!" she said.
"While we certainly support better coordinating and modernizing of their oversight efforts, modern does not mean 'federal.' State insurance regulators are marginalized in this report and, frankly, for our sector it looks more like a solution in search of a problem," Praeger said.
From within the insurance industry, the Washington, D.C.-based American Insurance Association (AIA) and The Council of Insurance Agents & Brokers said they support the plan.
Gov. Marc Racicot, president of the AIA, applauded the recommendation of establishing an OFC.
"The recent turmoil in financial markets has, in a dramatic way, called attention to the stability and strength of America's interconnected financial institutions, including the role non-bank financial institutions and insurance play in today's global financial markets. Treasury's blueprint accurately relies upon consumer protection, the growth and stability of the broader economy, financial solvency, and global competitiveness as the reasons for creating an integrated and comprehensive financial sector regulation at the federal level," he said.
Racicot said the inclusion of an OFC for insurance, as outlined in the Treasury blueprint, is a "major milestone in that it recognizes the important role that the insurance industry now plays in this new financial world of integrated and interconnected markets."
Leaders of the Council of Insurance Agents & Brokers called the blueprint "a turning point in the decades of efforts to modernize insurance regulation."
"Insurance is an increasingly global business, and inherently interstate, but state-by-state insurance regulation has failed to keep pace with convergence and consolidation," said Ken Crerar, president of The Council, which represents domestic and international commercial insurance agents and brokers. "These reforms will increase service and safety to consumers and lead to more innovations."
Joel Wood, the Council's chief lobbyist, noted that the legislation is modeled after the dual banking regulatory system.
"The most important word is 'optional,' which too often gets lost in the intra-industry acrimony surrounding this legislation," he said. "We believe state regulators try to do the best job they can to protect policyholders, and that role will be preserved for insurers and producers who choose a state charter. However, we believe in a national and global economy, given increasing competition in the financial services sector, an appropriately regulated national chartering system would provide the maximum protection for clients with the least cost from duplication in 50-plus jurisdictions."
But other insurer and agent groups aren't as supportive.
Robert Rusbuldt, president and CEO of the Independent Insurance Agents & Brokers of America (the Big "I"), said there are better ways to improve insurance regulation than moving toward a national system.
"While the Treasury's recommendation does not come as a surprise since they would become the new federal insurance regulator, proposing a massive overhaul of insurance regulation when the insurance market is one of the few stable sectors in the financial services industry seems odd to many. Clearly, we need more uniformity and efficiency in our regulatory system, but there are better ways to achieve this reform with less risk for the market," he said.
Rusbuldt questioned the political viability of the plan.
"While there may be some merit in the role envisioned for the Fed to identify and facilitate corrections of systemic problems in the financial services industry, the OFC section of the blueprint is clearly swimming upstream. It's hard to see Congress supporting a proposal that calls for massive deregulation of the industry and a huge new federal bureaucracy. The Treasury Department has not recognized the fact that the current insurance regulatory system has functioned effectively to protect consumers and the safety and soundness of the industry," he said.
The National Association of Mutual Insurance Companies (NAMIC) said that Treasury's goals of "efficiency, innovation, consumer protection, and avoidance of regulatory overlap" can be achieved without creating dual regulatory structure.
"These goals can best be achieved by a rationalized regulatory structure for the 21st Century that focuses on adoption and implementation of competition-based models for operation and regulation," said Charles M. Chamness, NAMIC president and CEO.
"The greatest costs imposed upon the insurance marketplace come less from multiple jurisdictions or overlapping regulatory authority than from the regulatory structure itself in the form of price and form regulation.
"One threat to effective insurance regulation is the creation of a dual regulatory structure," Chamness said. "The Treasury recommendation for an oversight office and a federal guarantee system appears to be a step toward dual and overlapping regulation."
The Property Casualty Insurers Association of America expressed caution over the major proposal. "The existing system of insurance regulation clearly must be streamlined and modernized, and PCI would support reforms that would do so. However, in making these reforms, we also must be careful to respect the regulatory prerogatives of the states, whose experience in regulating insurance would not be easy to replicate at the federal level. Market conditions vary greatly in the different states, and this fact could make federal regulation unwieldy," the group said.
The overall regulatory proposal, which was outlined today in a speech by Treasury Secretary Paulson, is expected to set off heated debates within different sectors of the financial services industry and in Congress, where some Democrats are likely to complain that the proposal does not go far enough to crack down on abuses.
Was this article valuable?
Here are more articles you may enjoy.