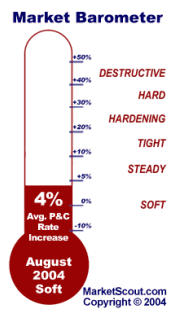 MarketScout recently released its market barometer update for the month of August.
According to Chairman and CEO Richard Kerr, "As of this writing, Hurricane Frances is looming off the coast of Florida. If Frances creates a loss of $1 billion to $5 billion, property rates will continue to decline. A loss of $5 billion to $15 billion will stop the current property rate decline. A loss of over $15 billion will turn the market, resulting in an overall composite rate increase for property renewals. If Frances pounds Florida, insurers could suffer "The Big One" and if so, all bets are off as insurer stability will be the leading concern. Many of the smaller insurers will fail if they are hit hard by Frances. Insurers with a strong financial position will weather the storm."
"Over all, the composite property/casualty premium calculations resulted in an increase of 4 percent for August, down from 5 percent in July and down 12 percent from one year ago. Even D&O insurance renewals are dropping dramatically. Heavy premium volume related to renewals this fall will begin to clearly reflect the market direction for the next six months."
Was this article valuable?
Here are more articles you may enjoy.