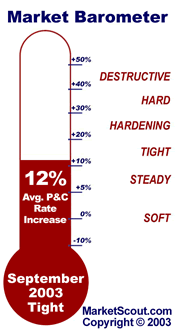 Is the cyclical hard market taking a turn for the soft? According to one expert, that is just what appears to be happening.
"The property and casualty insurance market is softening. As a result, business owners will have more free capital for investing. A 10 percent composite reduction in insurance premiums will have a positive impact on the economy as these premium reductions could literally put billions of dollars into the pockets of business owners", said Richard Kerr, chairman and CEO of MarketScout.
"Based upon submissions and pricing models developed from MarketScout's database of over 60 A-rated insurance companies and 48,000 insurance professionals, September's composite rate increase is 12 percent," continued Kerr. "September reflects the greatest reduction in the composite rate in three years. Absent a major cataclysmic event or discovery of drastic under reserving methods, the market will continue to soften. The September 2003 market data is a clear signal the insurance market is nearing the end of a four year hard market cycle.
"Our calculations, coupled with the Insurance Services Office (ISO) statement that the U. S. property and casualty industry's net income after taxes rose to $14.5 billion in first half 2003 (as compared to $4.4 billion in first half 2002), indicate the property and casualty hard market is over."
Was this article valuable?
Here are more articles you may enjoy.