Oil pared an earlier decline on contradicting reports about when Saudi Arabia will restore production lost in unprecedented attacks.
A Financial Times report citing unidentified Saudi sources contradicted an earlier article from Reuters that the kingdom is close to restoring 70% of its production it lost after the weekend attack on a key crude facility.
Brent crude was down 3.3% after earlier dipping to a 6.9% loss. A Pentagon official said the agency is preparing a report on who was responsible for the Saturday attack at Saudi oil facilities and intends to make it public within 48 hours.
Estimates of when, and how much, of the 5.7 million barrels a day of shut output would be back online have fluctuated since the attack. Significant volumes could come back within days, people familiar with the matter said over the weekend, adding that it could still take weeks to restore full capacity. Brent futures rose 19% in a matter of seconds at the open on Monday and ended the day up 15%, their biggest single-day advance.
Saudi Energy Minister Prince Abdulaziz bin Salman is scheduled to hold a press briefing on Tuesday evening in Jeddah.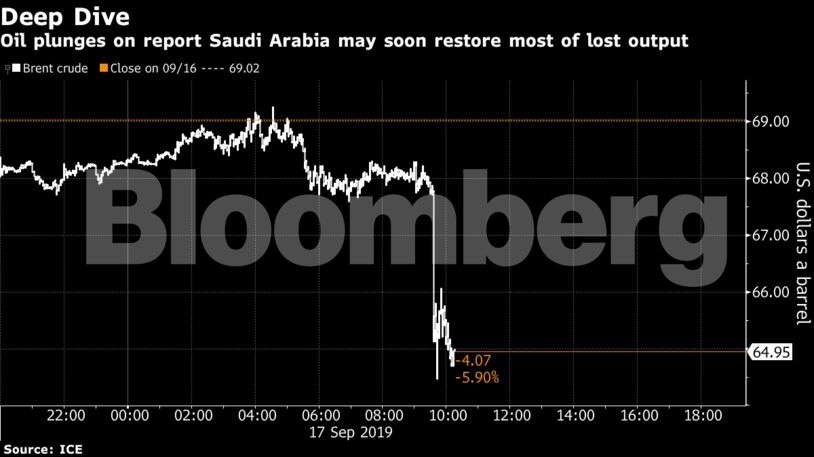 "We flip from worst case scenario to best case scenario in less than 24 hours," said John Kilduff, partner at New York-based Again Capital LLC. "We still need damage assessments and what it takes for those repairs. The presser for the Saudi energy minister will make or break whether or not we go even lower."
The attack damaged one of the Saudis' flagship fields and a key processing complex Saturday, triggering one of the wildest bouts of trading seen in oil markets. The worst ever sudden disruption to global oil supplies continues to reverberate as geopolitical risk premiums soar on concern over instability in the Middle East and a potential retaliation against Iran, which the U.S. has blamed for the strikes.
Brent for November settlement fell $3.12 to $65.90 a barrel at 12:57 p.m. New York time on the ICE Futures Europe exchange. The spread between November and December contracts narrowed to as little as 97 cents a barrel, the level it settled at Friday. The U.S. benchmark's discount to Brent for the same month was $5.86 a barrel.
West Texas Intermediate for October delivery slid $2.72 to $60.18 a barrel, after declining as much as 6.6% earlier on the New York Mercantile Exchange.
Copyright 2023 Bloomberg.
Was this article valuable?
Here are more articles you may enjoy.