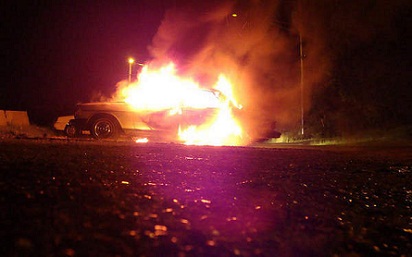 A Belfast, Maine, man is facing charges he set a Mercedes-Benz on fire and then posted photos of the burning vehicle on Facebook.
Belfast police say 36-year-old Asgard Tarick Gilbert was arrested on a felony arson charge.
The Bangor Daily News said the arrest came two weeks after police found the 1982 Mercedes burning on River Avenue.
Police say Gilbert told officers he saw the car with a "small campfire" in the back seat.
The Bangor Daily News says the charge came after police scrutinized surveillance tape from a Belfast store and seized Gilbert's cell phones and computer.
Police said the owner of the non-working car had been trying to sell it.
Copyright 2023 Associated Press. All rights reserved. This material may not be published, broadcast, rewritten or redistributed.
Was this article valuable?
Here are more articles you may enjoy.