Hurricane Dennis slammed into the northern coastline of the Gulf of Mexico between Pensacola Beach and Navarre Beach, Fla. on Sunday afternoon shortly after 3 p.m. (EDT) packing top sustained winds of 120 mph.
The storm lost momentum as it moved inland at about 21 mph and was downgraded to a Category 2 hurricane with winds as high as 105 mph. As the evening progressed, the storm was downgraded to a tropical storm, with winds in the area of 60 mph. Winds of 74 mph are required for a storm to be classified a hurricane.
Michelle Mainelli, a National Hurricane Center meteorologist said, along the coast, the worst is over.
Several hours after Dennis' landfall, Florida emergency operations officials had no reports of storm-related deaths. In Alabama, Gulf Shores and Orange Beach officials had no reports of significant damage.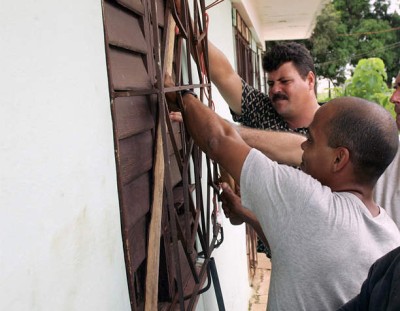 Cuba residents board up in anticipation of Hurricane Dennis. ©2005 Reuters
The concern now as Dennis moved inland Sunday evening was for heavy rains and possible tornadoes in Alabama, Mississippi, Tennessee and up into the Ohio Valley into Monday.
A scan of the area between Navarre Beach and Pensacola Beach showed relatively little damage, with the expected ripped-apart gas station awnings and overturned sheds but few downed power lines and trees.
Saturday, Dennis battered the Florida Keys with rain and wind gusts as high as 105 mph, forcing evacuations along the state's west coast.
Latin American Association of Insurance Agencies conferees attended the Saturday night banquet in Hollywood, Fla. as scheduled and reported losing only a handful of attendees due to hurricane worries. Attendees from the west coast of Florida were closely watching the progress of Dennis, but breathed a sign of relief when it moved off the west coast and meteorologists predicted it would miss the southern portion of the state.
Enrique J. Ruiz was installed as the new LAAIA president and members celebrated during a festive evening, despite worries about the safety of their friends and relatives in Cuba. Many attendees were attempting to contact Cuba to determine how hard the island was hit and to ascertain if their relatives and friends were OK.
In the South Florida area, in the meantime, a lot of rain fell Friday and Saturday night, accompanied by flooding. Some apartment buildings reported roof damage; while a lot of large trees went down and as many as 60,000 were without power in Dade and Broward counties.
On Sunday, forecasters predicted that Hurricane Dennis, featuring winds of more than 130 mph, would make landfall somewhere along the western Florida-Alabama coast.
Category 4 hurricanes, according to the Saffir-Simpson scale of strength, feature winds between 131 and 155 mph and storm surges between 13 and 18 feet. The result is extensive damage to lower floors of shoreline houses and possible destruction of mobile homes.
According to the National Hurricane Center, dangerous storm surges will cover barrier islands and move into many bays from Alabama to Florida.
Dennis is stronger than Hurricane Ivan — a Category 3 storm which pounded the Gulf Coast after it came ashore in September 2004 near Gulf Shores, Alabama.
Dennis, which is blamed for up to 32 deaths in Haiti and Cuba, is the season's first hurricane, a season which still has a number of months to go.
Folks in Key West, Florida were spared the wrath of Dennis on Saturday, although heavy rains and winds did hit the area.
Officials reported that more than 211,000 homes and businesses were without power Saturday in the southern tip of Florida, including the entire city of Key West.
The storm dropped in strength to Category 1 after moving over Cuba, but strengthened once again as it moved over open water into a Category 2, with top winds of 100 mph, before growing to a Category 4 storm.
The storm's eye made landfall on central Cuba's southern coast a second time shortly before 2 p.m. Friday near Cienfuegos, Cuba, about 125 miles southeast of Havana, according to the National Hurricane Center in Miami said.
Dennis follows Tropical Storm Cindy, which made landfall late Tuesday in Louisiana. Two days later, remnants of Cindy dumped heavy rain on parts of the Carolinas, resulting in flash flood and tornado watches.
Editor's note: See related news items in several other regions.
Was this article valuable?
Here are more articles you may enjoy.