An organization that advocates for a more efficient U.S. justice system has released a set of protocols that aims to guide discovery and speed resolution of litigation arising from business-interruption claims related to the COVID-19 pandemic.
The Institute for the Advancement of the American Legal System developed the protocols in only six months, with members of a committee of defense and plaintiff attorneys holding a series of monthly virtual meetings to develop the document, said IAALS Senior Director Brittany Kauffman. She said the committee announced the effort last May because of the unprecedented number of lawsuits filed in both state and federal courts in all 50 states.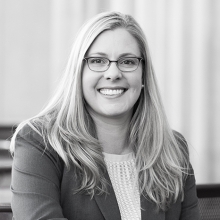 "We absolutely identified the need to move quickly," Kauffman said. "Historically, developing these kinds of protocols and working with a committee like this has taken a year or two. This is the fastest that we have ever done this."
This is the fourth set of discovery protocols developed by the IAALS, which is housed at the University of Denver. In February 2019, the institute announced the release of protocols to expedite recovery in disaster cases. The protocols are voluntary, but judges can choose to insist on their use during proceedings.
Kauffman said discovery tends to the most expensive part of litigation. Attorneys have to decide what information is relevant and which documents to share. "That process takes a lot of work and takes a lot of time," she said.
A litigation tracker maintained by the Hunton Andrews Kurth law firm says 1,556 lawsuits have been filed concerning COVID-19 insurance disputes as of Jan. 28. A separate tracker maintained by the University of Pennsylvania law school says that as of Thursday, insurers have won 157 motions to dismiss or for summary judgment, while policyholders have won 32 cases in early rounds.
Defense attorneys have said that generally, insurers never intended to cover business income lost because of a pandemic even with so-called "all risk" commercial property insurance policies. If viruses are not excluded from coverage, as they usually are, no coverage is owed without a tangible physical alternation to the property, they say.
Kauffman said the protocols committee addressed that potential point of controversy by including a statement in the protocols that the courts may decide that no coverage is owed so discovery may be put aside.
The protocols lay out ground rules for the discovery process. For example, any documents withheld as a privileged work product must be described briefly by category or type.
Separate sections identify documents that must be produced by insurers and insureds. Some are obvious, such as the address of the property and a description of the insured's ownership or other interest.
Other requirements are more particular to business-interruption claims. The protocols require policyholders to disclose any payments that were applied to any part of the claimed loss, such as government relief under the Coronavirus Aid, Relief, and Economic Security Act or under a Small Business Administration loan program.
Insurers are required to explain the factual basis for a claim denial. They must also disclose the individuals who made the claim decision and any experts who were relied on to make that decision.
Steven Badger, an insurance defense attorney for the Zelle law firm in Dallas who served on the IAALS's protocols committee, said the discovery protocols may not see widespread use because the number of claims so far has been less than initially anticipated. Badger said more than 200 cases have been voluntarily dismissed in federal court after 80% of early decisions went in favor of insurers.
Nevertheless, he said now that the protocols are written, they can be used as needed in the future. Badger said it makes good sense to have a handy discovery guidebook for pandemic-related business-interruption lawsuits.
"So much time and money is wasted fighting over the same predictable discovery disputes early in the litigation process," Badger said in an email. "Lawyers predictably overreach with their discovery requests. Judges loathe discovery disputes. The protocols are intended to avoid these disputes by limiting initial discovery to a reasonable set of documents and information — the types of things that are really needed to evaluate a case early in the litigation."
Was this article valuable?
Here are more articles you may enjoy.