Jeanne, once a rather weak tropical storm, roared ashore on Florida's Eastern Coast early Sunday morning with the full fury of a massive Category 3 hurricane. While scenes of devastation played across TV screens across the world, the state's residents, already deluged by three previous cyclones, prepared once again to start cleaning up the mess and to put their lives back in order.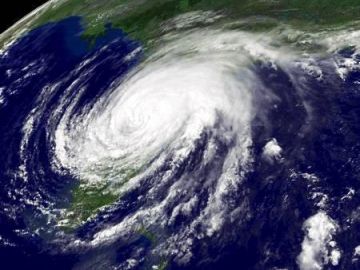 The, by now all too familiar, scenes of destruction showed massive waves battering the coastline, water reaching far inland, roofs torn from houses, cars crushed by trees, and what newly arrived Boca Raton resident Mark Rosenfeld described as "the eerie blue flashes" caused by downed power lines and exploding transformers. At least 6 people were reported to have died from storm related causes, and some 2 million homes are still without electricity.
Jeanne has the sinister distinction of being one of the deadliest hurricanes to strike the Caribbean in decades. In addition to the deaths in Florida, more than 1,000 persons perished in Haiti as a result of heavy flooding caused by Jeanne's torrential rains. The storm ravaged the Bahamas before moving on to Florida, but no deaths have so far been reported there.
Florida's residents are certainly justified in asking "why us?" Jeanne followed exactly the same path charted by Frances in early September; something that has never happened since 1851, when hurricanes were first systematically recorded. It's also the first time since 1886, when four storms struck Texas, that the same state has been hit four times in a season – which still has another month to go.
Charley, Frances, Ivan and Jeanne have come in such quick succession that no definitive estimates on the extent of the losses can yet be made. They will be substantial, however – probably more than $20 billion.
Oakland-based EQECAT Inc. issued a statement on Friday, before the hurricane struck, that "based upon updated information provided by the National Oceanic and Atmospheric Administration (NOAA) about Hurricane Jeanne, now a category two storm, estimated insured losses could range from about $2 billion to about $5 billion, depending upon the exact landfall location, the track of the storm after landfall, and the intensity as it reaches Florida's southeast coast." As Jeanne actually strengthened to a category 3 storm with winds over 120 mph (192 km/hr), those estimates may actually be on the low side.
Just after the storm passed, Risk Management Solutions gave a preliminary insured loss estimate of between $4 and $8 billion. Whatever the final toll turns out to be, it has already put a heavy burden on insurers and reinsurers (See related article in "International"). Claims services have been working virtually non-stop since August and will do so into October. Four hurricanes in the same state is one record no one wants to see broken.
Florida's residents – even new ones like Rosenfeld – have learned to be philosophical. "What can you do?" he asked. "You have to make the best of it, and get on with your life." He pointed to the transient nature of hurricanes. By late Sunday afternoon – after a night of howling terror – the sun was shining in Boca Raton; it was 82°F (27°C) and there was very little wind. All Floridians hope it stays that way.
Editor's Note: See more on Hurricane Jeanne in Southeast News.
Was this article valuable?
Here are more articles you may enjoy.