Benefits paid to workers and employers' costs for workers' compensation rose slightly faster than wages in 2001, according to a new report released today by the National Academy of Social Insurance.
This is the first year since 1992 that benefits grew faster than wages and the first year since 1993 that employer costs rose faster than wages. Workers' compensation pays for medical care and cash benefits for workers who are injured on the job or become ill due to job-related causes. In providing health care and cash benefits to disabled workers and their families, workers' compensation is second in size only to Social Security disability insurance and Medicare.
Workers' compensation benefits and costs grew faster than wages in 2001, in large part because of the economic recession that began in March 2001. The recession brought the slowest growth in wages in more than a decade and a decline in the number of covered workers.
In 2001, wages grew by just 2.4 percent, while total workers' compensation benefits grew by 3.5 percent – for a total of $49.4 billion. Benefits per $100 of wages grew by one cent, from $1.06 in 2000 to $1.07 in 2001. Benefits were about 36 percent lower than their peak in 1992 when benefits were $1.68 per $100 of wages (see Figure 1).
Employer costs, which reflect premiums charged by insurers, rose by 8.0 percent in 2001 to $63.9 billion. Employer costs per $100 of wages rose by seven cents, from $1.32 in 2000 to $1.39 in 2001, but still remain below their 1993 level of $2.16 per $100 of wages.
Workers' compensation premiums are affected by many factors, including the performance of financial markets. Reduced investment returns in 2001 contributed to higher premiums.
"The long-term decline in benefits and costs relative to wages since 1992-93 is due, in large part, to fewer reported accidents and fewer claims for workers' compensation," John Burton, Jr., of Rutgers University and chair of the NASI Panel that oversees the study, explained. Workplace accidents that result in lost work days declined from 3.0 to 1.7 per 100 full-time workers between 1992 and 2001, according to the U.S. Department of Labor. Industry sources report similar declines in workers' compensation claims.
"Other reasons for the decline include more active management of medical care and more efficient return-to-work programs and other efforts to reduce costs," Burton added. "At the same time, some are concerned that initiatives to control costs, discourage fraud, and tighten eligibility requirements cause injured workers to be denied benefits or discouraged from claiming them," Burton concluded.
These trends are discussed in the NASI Brief, Workers' Compensation and Older Workers, at www.nasi.org.
The report, Workers' Compensation: Benefits, Coverage, and Costs, 2001, is the sixth in a NASI series that provides comprehensive national data on this largely state-run program. The study provides estimates of workers' compensation payments – cash and medical – for each state, the District of Columbia, and the federal programs providing workers' compensation benefits.
"Because each state has its own rules for workers' compensation in terms of benefits, financing, administration, and coverage," Burton noted, "it is essential to have comprehensive and consistent national and state data to evaluate the impact of these programs on workers and employers."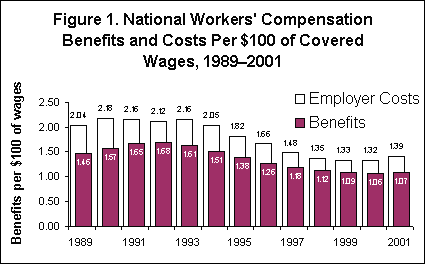 Source: National Academy of Social Insurance, 2003 Workers' Compensation: Benefits, Coverage, and Costs, 2001.
Was this article valuable?
Here are more articles you may enjoy.