Opioid Prescriptions in Workers' Compensation Claims Decline: WCRI
A new study by the Workers Compensation Research Institute (WCRI) found "noticeable decreases" in the amount of opioids prescribed per workers' compensation claim in a majority of 25 states studied.
The WCRI study, Interstate Variations in Use of Opioids, 3rd Edition, examines interstate variations and trends in the use of opioids and prescribing patterns of pain medications across 25 states. The study compares the amount of opioids prescribed per claim over two roughly 24-month periods of time ending March 2012 and March 2014.
According to the study, the amount of opioids received by injured workers decreased over the two time periods in the majority of the study states. Statistically significant reductions in the range of 20 to 31 percent were seen in six states: Maryland, Massachusetts, Michigan, Oklahoma, North Carolina and Texas.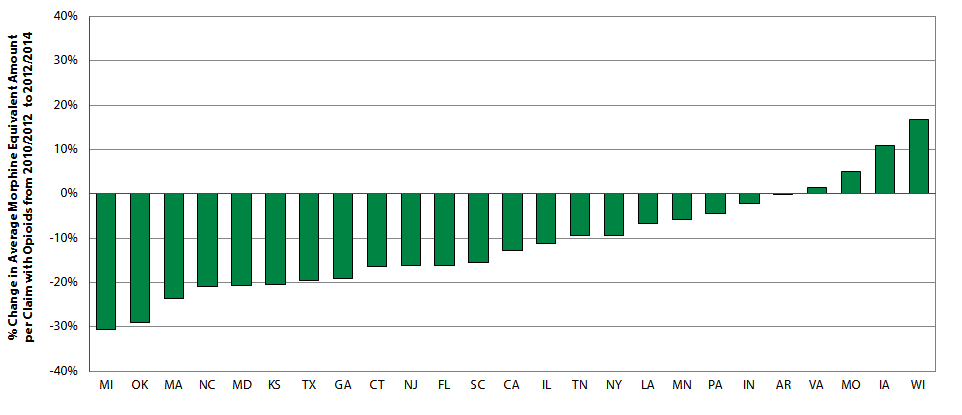 The 25 states in the study are Arkansas, California, Connecticut, Florida, Georgia, Illinois, Indiana, Iowa, Kansas, Louisiana, Maryland, Massachusetts, Michigan, Minnesota, Missouri, New Jersey, New York, North Carolina, Oklahoma, Pennsylvania, South Carolina, Tennessee, Texas, Virginia, and Wisconsin.
The authors say the decrease coincides with various state reforms directed at curbing opioid abuse including strengthening of prescription drug monitoring programs and adoption of treatment guidelines and drug formularies.
According to WCRI, an independent research organization based in Cambridge, Mass., some of its study's other findings include:
Opioid use was prevalent among nonsurgical claims with more than seven days of lost time. About 65 to 80 percent of these injured workers with pain medications received opioids in most states.
Among claims with opioids, the average amounts of opioids received by injured workers in Louisiana, New York, and Pennsylvania were the highest among the 25 study states. Although Wisconsin, Iowa, and Missouri had an increase in the average amount of opioids per claim over the study period, they had a lower amount of opioids per claim than the median state at the end of the study period.
Among claims with opioids, simultaneous use of opioids and benzodiazepines was seen in 1–9 percent of injured workers across the 25 states. Use of both opioids and muscle relaxants at the same time was seen in 30–45 percent of claims.
Dr. Vennela Thumula, an author of the WCRI study and a policy analyst at WCRI, said the information should be useful for state officials setting public policy, payors and managed care companies with opioid management programs, injured workers and worker advocates looking to understand opioid use in their state, and providers wondering what the prescribing norms in their state may be and if the state norms are unusual.
This study uses data comprising over 337,000 nonsurgical workers' compensation claims and nearly 1.9 million prescriptions associated with those claims from 25 states. The claims represent injuries arising from October 1, 2009, to September 30, 2012, with prescriptions filled through March 31, 2014. The underlying data reflect an average 24 months of experience for each claim. The data included in this study represent 40–75 percent of workers' compensation claims in each state.
WCRI's findings appear to track with a report by pharmacy benefits manager Express Scripts indicating that the cost of opioids in workers' compensation claims may be slowing. At $450.90 per-user-per-year, opioids continue to be the costliest class of medications for occupational injuries, Express Scripts found, but overall spending for opioids decreased nearly 5 percent as utilization decreased by almost 11 percent. On average, injured workers received 2.91 opioid prescriptions per year – down from 3.33 prescriptions in 2014.
Express Scripts said workers' compensation payers continue to be focused on opioid and compound drug management even as they grow increasingly worried about and the rising cost of specialty medications.
Ohio's workers' compensation state fund has reported that opioid doses for injured workers have dropped by more than 40 percent. Officials credit the drop to education, as well as a closed prescription drug formulary that was included with the pharmacy management program implemented in 2011.
In March, the Centers for Disease Control and Prevention (CDC) issued new recommendations for prescribing opioid medications for chronic pain. The "CDC Guideline for Prescribing Opioids for Chronic Pain, United States, 2016" was developed in response to an epidemic of prescription opioid overdose, which CDC says has been fueled by a quadrupling of sales of opioids since 1999.